We're back baby! During our short three-month hiatus, plenty of awesome MOCs were posted across the various social media platforms, and we are trying our best to gather some of the best rigs and give them the recognition they deserve! If you know of some rigs that should be featured on this page, hit us up on the comments below, or the contact form!

To kick things off, we have a pair of Ocean Brick's blue rigs. Even though each rig serves a different community, they pretty much have the same color scheme. While one is a newer piece, the other is a true classic. Blue fire trucks are definitely a unique commodity in the LFC! Well done!
Powered by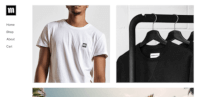 Create your own unique website with customizable templates.